Okay so the other day, American Girl came out with the new historical doll Caroline Abbott. I already know that Cayla disagrees with me, and probably a lot of other people do too. I do not like her. First of all, she's even more unoriginal than McKenna (I still love you McKenna). I mean is American Girl like out of ideas? If you wanted Lanie Holland, then get Caroline. They are almost identical! Same face mold, same skin color, same hair style and color, and pretty much same eye color. The only thing different is their names, and Lanie has side bangs.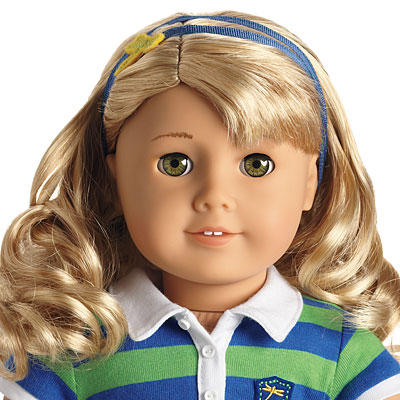 This is Lanie Holland, Girl of the Year 2010.
And this is American Girl's newest historical doll, Caroline Abbott.
See what I mean? There like twins. Also, Caroline's collection I think could be better.
These are Caroline's accessories. There alright, but I mean, 24$ for 3 things?
This set is Caroline's Travel Out & Basket. It could be better, and cheaper, but it's actually a really beautiful set.
Oh and this, this big hunk of plastic with a rag taped to it, this is Caroline's Skiff. American Girl is trying to sell this for $175! It's just a pathetic set NOT worth buying.
This is Caroline's cat Inkpot. I think that he is my favorite part of her collection. He is just so cute, it's just that he looks a bit like Licorice.
This is Caroline's Winter Coat & Ice Skating Set. I think that it is sooo beautiful, and it's definently going on my Christmas list.
This is Caroline's Holiday Gown. I think it pretty, just not exactly my favorite thing.
And then this, this is Caroline's Parlor. I am absolutely in love with it, but I'm just not willing to have a piece of furniture that big, especially for $300.
This is Caroline's Birthday Dress. It's okay, and pretty, and very original, just not my style.
This however, is not very original. It looks like Felicity's table and chairs set. If you wanted her set, get Caroline's. Selling for $208...
This right here is Caroline's Nightgown. I think it's beautiful, it looks a little like Marie Grace's, but not a whole lot. I'd recommend this if you have Caroline.
Lastly we have Caroline's Bed and Bedding. Selling plastic and 50 cent cloth for $125. Have fun with this piece of plastic that you could make and have it look even better.
So that is my opinion on the new Historical doll Caroline Abbott and her collection. Overall I'm not a big fan of her. Comment and tell us what you think. Or you can email us agdolltips@gmail.com .
<3 Reagan