Okay so my shopping list is...
1. Cozy Sweater Outfit $28.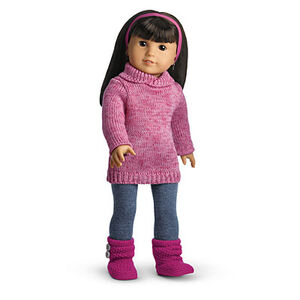 This comes with one pink sweater, grey leggings, pinkish sock boot things, and a ribbon headband.
2. 2012 Holiday Accessories $32.
This comes with a beautiful black jacket, 2 tickets to the Nutcracker, a little watch, and a nutcracker.
3. Soft-as-Snow Outfit $34.
This contains one fur skirt, white tights, a cozy white sweater, the cutest purple boots, and for an extra $10, a pair of white puffy earmuffs. However, I would not be purchasing this with the earmuffs.
4. Reindeer Pajama's $28.
This contains one pair of pink slippers, one pair of comfy flannel bottoms, one long sleeve shirt, and one pair on antlers.
5. I am going to set aside an extra $20 for any exclusive things that catch my eye.
I have saved up several AG gift cards from about 2 years ago, because I have been wanting to do this for my birthday for sooo long. This way, I will not have to bring any cash, except for the extra $20 for exclusive items.
<3 Reagan